In Utter Tragedy A Compassionate Korean Migrant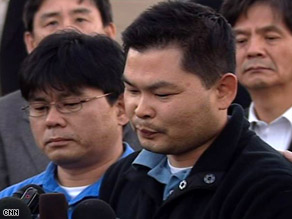 This story isn't really related to the migration debate, but I couldn't help but write about it.
CNN
reports that a U.S. military jet crashed into the home of Korean migrant Dong Yun Yoon, killing his entire family.
Yoon named the victims as his infant daughter Rachel, who was born less than two months ago; his 15-month-old daughter Grace; his wife, Young Mi Yoon, 36; and her 60-year-old mother, Suk Im Kim, who he said had come to the United States from Korea recently to help take care of the children.

Despite this tragedy, Yoon, holds nothing against the pilot and even asked people to "pray for him not to suffer from this accident."
I'll let others read the rest. This story just reminds me to be thankful for the loved ones around me, and Yoon really is an example of compassion in the face of tragedy. It's like something right out of the
Book of Job
.
Comments