I'm a Finalist For A $10,000 Blogging Scholarship. Yay.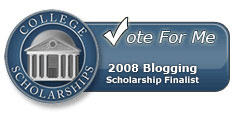 Whoop. Di. Do.
I applied for a $10,000 blogging scholarship a little while ago since I'm back at school and I've been selected as
one of the finalists
. You can
vote for me here
.
I guess this is when I'm supposed to mobilize everyone I know to vote for me, or I could just use the tricks that the nativist folks at ALIPAC are fond of which allow you to vote multiple times in polls like these. That's just not me though.
Don't get me wrong. I'm grateful for being selected as a finalist. Also, the $10,000 would be extremely helpful to me, especially at this time. I just don't feel that it's right to mobilize whatever online power I've accumulated over the past years to win $10,000.

I blog for migrants, and by extension for a world where everyone truly is born with the same opportunities. I am grateful for whatever support I receive in that quest, but it just doesn't feel right to advertise myself over the online connections I've forged for other purposes.

I merely post it here to show that Citizen Orange is getting recognition for the work that is being done here. I was selected out of many. The fight continues.