How To Say Trick or Treat in Spanish
I hope everyone enjoys Halloween, today. As a child in Guatemala there were only a few places that I could celebrate Halloween. We'd usually have to go to the Gringo, or "Americanized", walled in colonias to go trick or treating. If not you'd run the risk of ringing the doorbell of a religious family that believed celebrating Halloween was the equivalent of devil worship. How do you say trick or treat in Spanish? This is what we used in Guatemala:
Tricko! Tricko! Halloween!
Dame dulces para mi!
(Give me candy for me!)

For the first time, I'm heading out to Salem, Massachusetts, for Halloween, tonight. I imagine that it's going to be a completely different experience than the one I'm used to in Guatemala.
Tangentially, I typed in "immigration" and "halloween" into Google, and what I came up with is a not so happy reminder of Halloween. It brought up the Julie Myers controversy.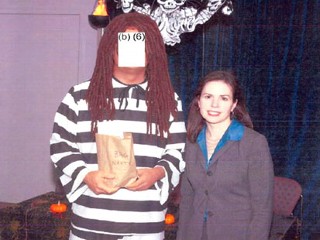 Julie Myers is the head of
Immigration and Customs Enforcement (ICE)
. ICE is the U.S. federal government's chief weapon in the war on migrants. It has a budget of approximately
$5 billion dollars
, and despite the global economic crisis, it was one of the only agencies to be fully funded for the whole year. In other words, the federal government will gladly spend money to terrorize migrants, and to bail out big corporations, but when it comes to helping out working families in these trying economic times, that's negotiable.
Last Halloween,
Julie Myers was the judge in an ICE Halloween contest
. She chose as the winner, a man dressed up in a prison costume, dreads, and black face. Myers didn't think it an issue at the time, but when she realized it might be a problem she tried desperately to cover up pictures of the event.
ICE imprisons tens of thousands of migrants in detention centers everyday. Private companies profit off of the detention of these migrants. In fact, most prisons prefer migrant detainees because the government pays more for them, usually, than the average criminal. ICE imprisons children in facilities like the nicely renamed "
Don Hutto Family Residential Facility.
" If there is an even worse in all of this, it's the fact that dozens and dozens of detainees, like
Hiu Lui Ng
, have died in the custody of ICE from lack of medical care.
Knowing all of this, Myers didn't think twice before awarding a "best costume" prize to a person dressed up in a prison outfit and even worse, with a darkened face? Why should a prisoner have a darkened face? At best, Myers showed herself to be completely incompetent and insensitive last Halloween. At worst, This incident is an example of the attitude the federal government takes in its billion dollar war on migrants.
Happy Halloween everybody!
Comments