Citizen Orange Mentioned in the Chicago Tribune
Minutes after word broke about a Nickelodeon TV special on children affected by Immigration raids, messages like "What part of illegal don't you understand!?!" and "Deport them all!" bombarded Web sites and blogs.

Then, in an increasingly common reaction, bloggers from "pro-migrant" sites such as Citizen Orange and The Unapologetic Mexican countered by ridiculing the show's critics.

From then on, the article is all down hill.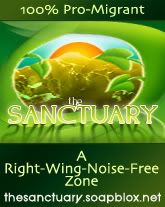 It makes the pro-migrant sanctuarysphere sound defeated. It makes
William Gheen
sound like the commander of a million person army, while we struggle with our last dieing breaths. If people like Gheen really are winning, why do
anti-migrant politicians keep losing elections
? Why is it that my blogroll has so many pro-migrant blogs? Why is it that Citizen Orange comes out near the top of a google search of "
attrition through enforcement
"? We're starting to take the web back from
nativists like Gheen
, and this article doesn't do our fight justice.
The Sanctuary
has been mentioned before, but if you're coming here via the Chicago Tribune article, please check out this pro-migrant space made up of some of the best voices on the net. The Sanctuary will be a spot free from a lot of the noise an misinformation spread by folks like
Gheen at ALIPAC
.