Living Under the Trees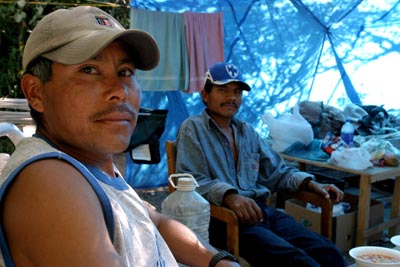 The recent fires in California have shed light on migrant workers living on the fringes of the farmlands where they harvest our nation's vegetables. Living in tent communities, secluded from basic human services, these migrant workers are sometimes nonetheless located within sight of expensive new homes inhabited by people living a totally different existence from theirs.
Long before the fires came, photographer David Bacon spent time among the migrants, creating an intimate portrait of their lives. There's still time to catch his photography and oral history exhibition, "Living Under the Trees." Since its debut in March, this exhibition has appeared around Los Angeles, and is
slated
next for San Francisco and San Diego between this December and April 2008.
Whether or not you can make it to the exhibition, definitely check out David Bacon's breathtaking photos at his
website
. He has done amazing work documenting the lives of
those who live in the shadows
, as well as those who struggle for
workers' rights
, both here and around the world. Bacon's stories and photos are worth volumes of mere words. He has traveled to communities south of the border, including the
pueblito
where I spent 3 months long ago, catching my first glimpse of migrants traveling north by train. His work on
immigrants
focuses largely on migrant farm workers and should not be missed.